Advance Your
Career at
Mavensoft Technologies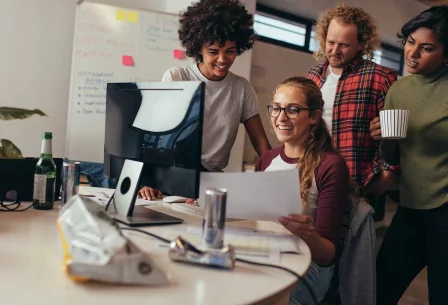 Work/Life balance
At Mavensoft we truly understand the correlation between mental health and productivity. With so many professionals torn between juggling heavy workloads, managing relationships, family responsibilities, and squeezing in hobbies, it's no surprise that more than one in four professionals describe themselves as "super stressed."
We emphasize the importance of maintaining a healthy balance between professional and personal livelihood, enabling you to remain fulfilled and content.
Our Collaborative Environment
Fostering innovation and problem-solving among our team of talented individuals
Our team enjoys a work environment where diverse skills, viewpoints, and shared values from co-workers, clients, and partners are considered and incorporated into how we do business. We believe in building long-term successful relationships that foster a climate of consistent and rewarding results.
Our mission is to build an exceptional organization where our teams are empowered with skills, advanced tools, and technologies for solving business challenges.
Our goal is to embark on long-term partnerships to ensure our clients get the value they deserve alongside faster, more efficient services.
Some words from those we have assisted
"Mavensoft Team has been critical in building the user-friendly solution by managing the transition and supporting ensuring we have the best user satisfaction ever; you have taken my product to the next level through your visionary thinking. Thank you for all the work you performed for me." –
"I am very much satisfied with Mavensoft Team for their advanced thinking capabilities to help with business solutions and convert them to the required and acceptable digital products. Working with Mavensoft enabled me to offer three times more than I thought to my students, parents, schools and counselors; it all became a reality today with your help. Thank you for being my digital partner!" –
"We've been using Mavensoft services for the last ten years. The Frequent Flyer Program application called Destinations is built as a user-friendly and easy-to-use product, it is very reliable, and if ever we get stuck, we can reach out to the team for support. As a business head, Team Mavensoft is the best team to work with. If you're looking for all-in-one digital support, Mavensoft gets our big thumbs up as the top choice." –
"Taking this opportunity to say a big Thank you to Team Mavensoft. As part of my acecars and readycarpaints application building, you demonstrated your willingness to contribute beyond my expectations. I no longer see you as a vendor but as a partner and mentor. Please continue to support the way you do each day, every day. Your help is valued." " –